Philosophy Hall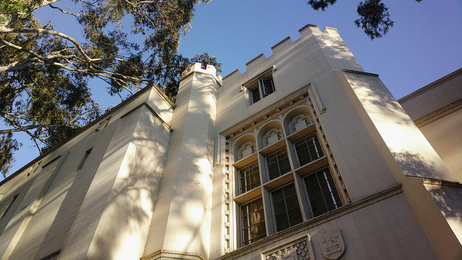 The Philosophy Department is housed in Philosophy Hall, near the Campanile on the main UC Berkeley campus. The building was designed in 1931 by George Kelham, who had earlier designed many San Francisco landmarks, including the old Main Library and the old Federal Reserve. Until the 1960s, the building was named Eshleman Hall and housed student publications, the band, and the chorus. It was renamed after Bernard Moses (1846-1930), U.C.'s first historian and the founder of Berkeley's Political Science Department. The Philosophy Department moved into Moses during the 1970s. Concerns about views expressed in Moses's writings, for example his apparent endorsement of lynching in the post-war South, have led the Department (led by its Equity Task Force) to propose to the University that the building be renamed. As of Fall 2023, the building is known as Philosophy Hall.
Howison Library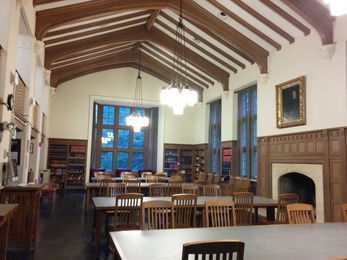 The Howison Philosophy Library is located on the third floor of Philosophy Hall. Its collection originated as the personal library of George Howison, the founding member of the Berkeley philosophy department, and it now includes 60 periodicals and over 10,000 monographs (click here to view the catalog). The Department holds colloquia and other events in the Library. Although Howison Library is not a circulating library, it is open to the general public; for its hours, please call 642-2722.
The Dennes Room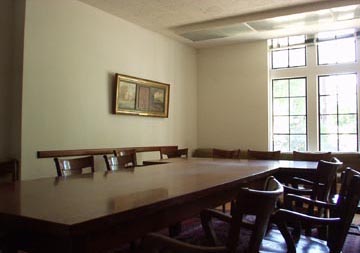 The Dennes Room (234 Philosophy Hall) is named in honor of Professor William Dennes, who played a central role in reshaping the Philosophy Department in the 1960s. The room is used for philosophy seminars and meetings.
301 Philosophy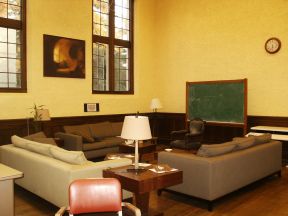 Once the rehearsal room for the university band and chorus, 301 Philosophy Hall now houses the graduate students' lounge, offices, computer room, and mailboxes. It is also the site of the department's post-colloquium receptions.
The Stroud Room
The Stroud Room (302 Philosophy Hall) is named in honor of Professor Barry Stroud. Formerly the Chair's Office, it is being renovated through donations from his family, friends, students, and colleagues. It will be home to a set of Stroud's books, representing his intellectual biography, and will host philosophy seminars and meetings.